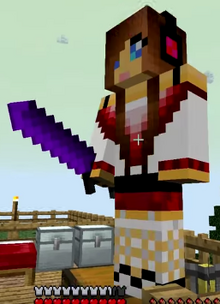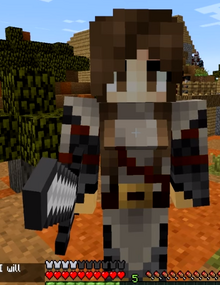 https://www.minecraftskins.com/uploads/preview-skins/2015/02/11/skin_2015021121062195907both.png?v28 Gertrude (sometimes referred to as Gertrude the Guard) is the fictional wife/girl friend of SSundee. She is from the "Minecraft Comes to Life" mod. Her first appearance was on March 28th of 2014. Her last appearance was on June 11th of 2016.
Appearance
Edit
Gertrude has gone through many different changes. Her first appearance was in the video Minecraft CRAZY CRAFT 7 - LETS FIND A GIRLFRIEND(Minecraft Mod Survival), on March 28th, 2014. She had blue eyes, pink headphones, and white clothes with pink lining. She also was holding a modded purple sword, which SSundee gave to her.
Her latest appearance was her wearing gray cloth with dark gray gloves, a belt with a gold buckle, and brown eyes with long brown hair. Occasionally she is seen wielding an iron sword.
She appeared in the video Minecraft: CRUNDEE CRAFT | I KILLED GERTRUDE [50], on June 11th, 2016. SSundee and Crainer were fighting inside of a small bedrock structure, with Gertrude inside. Mistakenly, SSundee attacked Gertrude, dealing a massive amount of damage, and killing her.
To this day, SSundee says he will never forget Gertrude.
TrollCraft
Edit
In the trollcraft series Gertrude trades hands between Crainer, SSundee, and CaptainSparklez multiple times, but is currently married to Jordan, as of his episode Minecraft: TrollCraft Ep. 66 - MR. STEAL YO GIRL much to the dismap of her long-time boyfriend Ian.